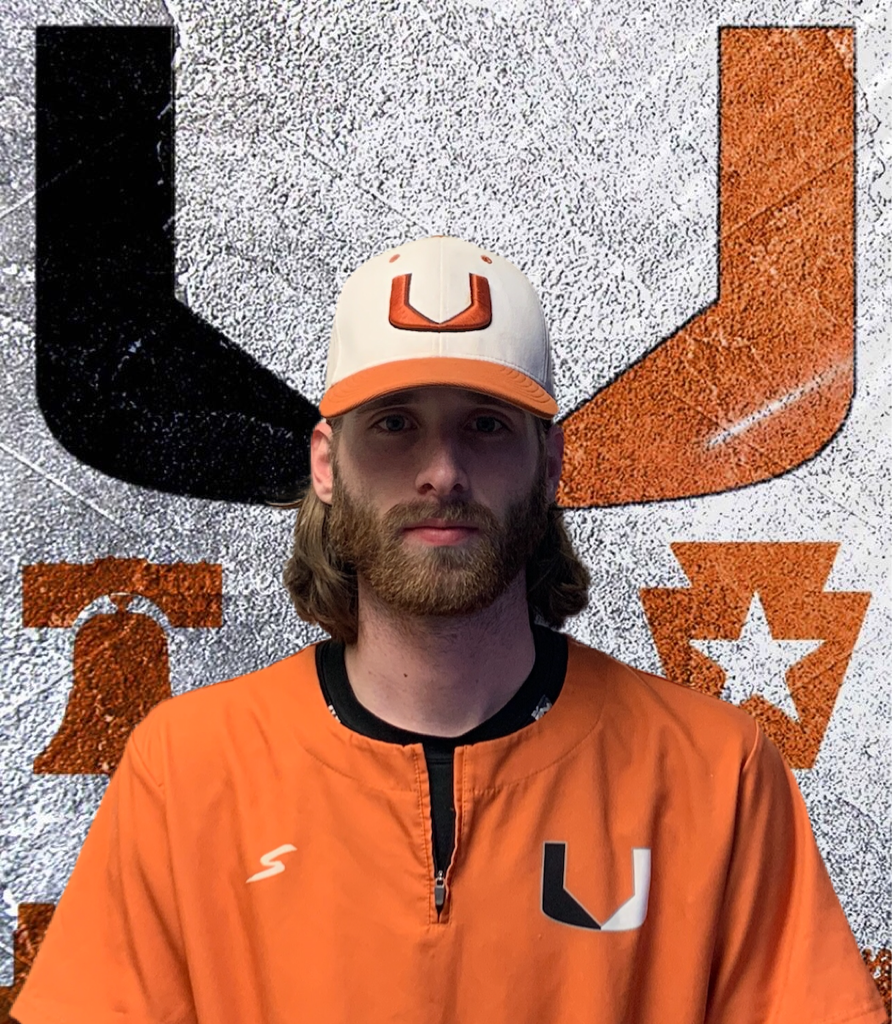 Playing Career at Arcadia University
2018: Started eight games on the hill… Registered a 4.50 ERA in 36 innings allowing 18 runs and striking out 25… In four innings of work, allowed four hits and struck out four against Nichols (3/15)… Pitched the complete game shutout win against Messiah, allowing three hits and striking out six (4/22)… Got the win against Hood with 7.2 innings of work, letting up five hits and striking out three (5/3).
2017: Started in nine of his 12 appearances on the mound as a junior… Posted a record of 3-1 with two saves, a 3.10 ERA and 58 strikeouts over his 52.1 innings of work… His 58 Ks place him eighth on the all-time single-season strikeout list… Fanned three batters over the final two innings to earn the save in a 10-4 game-two win over Swarthmore (2/25)… Earned the save in an 11-10 game-two win over RIT (3/5) after striking out five batters over two innings… Tossed seven scoreless innings to pick up the win in a 4-0 victory over Ohio Wesleyan (3/13)… Allowed two runs on five hits while striking out eight over five innings to record the victory in a 6-3 game-one win over Albright (4/8)… Allowed one run on six hits with five Ks over seven innings in a 3-1 game-two win at Alvernia (4/29)… Struck out eight batters while scattering six hits over nine scoreless innings against Suffolk (5/19) in the second round of the NCAA New England Regional.
2015: Appeared in nine games, six as a starter… Finished with a 2-3 record and two saves with a 7.16 ERA and 17 strikeouts in 27.2 innings… Pitched to a no-decision conference victory in game-one over Messiah (3/30), allowing just one run on three hits in 3.0 innings… Earned the conference win over Stevenson (4/13), pitching a scoreless 3.2 innings and scattering a hit and two walks… Earned a save in consecutive days against conference opponent Lebanon Valley (4/17 and game-two of 4/18), pitching a combined 2.1 innings and giving up just two hits and striking out three… Picked up the win after pitching 5.0 scoreless innings and scattering three hits and two walks in game-two against Eastern (5/2).
2014: Started seven games… Finished with a 3.52 ERA and 26 strikeouts in 38.1 innings… Threw six innings of a win over Hilbert (3/9), allowing no earned runs and striking out six… Pitched six innings, allowing no earned runs and striking out two, in a loss to Widener (3/22)… Struck out six and allowed zero earned runs in six innings of a loss to Messiah (3/31)… Allowed two earned runs and struck out five in a loss to Stevenson (4/12)… Pitched seven innings, allowing three runs and striking out three, in a defeat of Lebanon Valley (4/18).